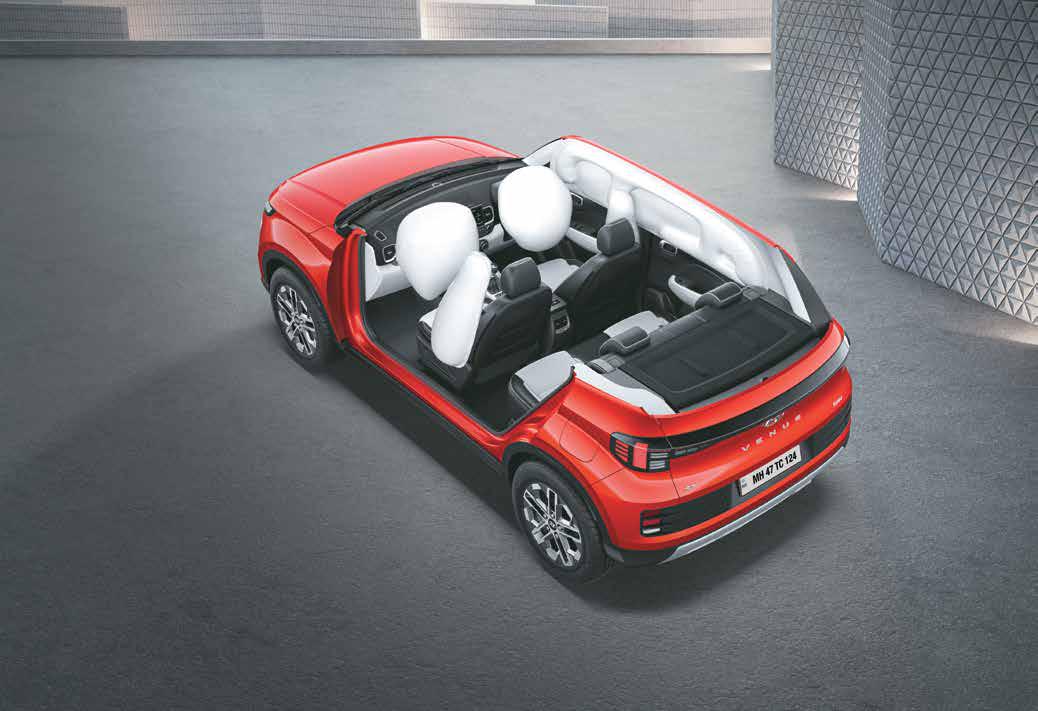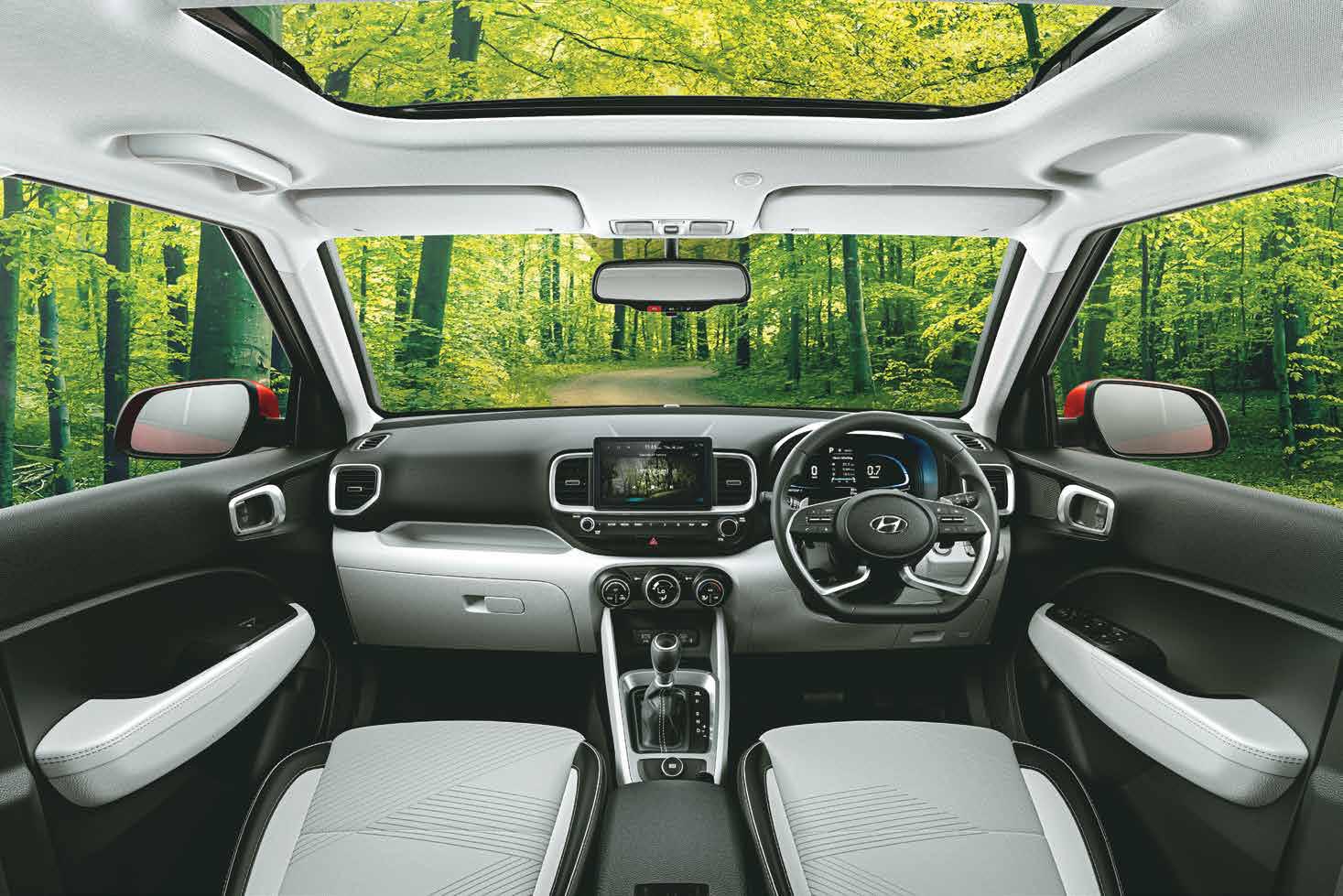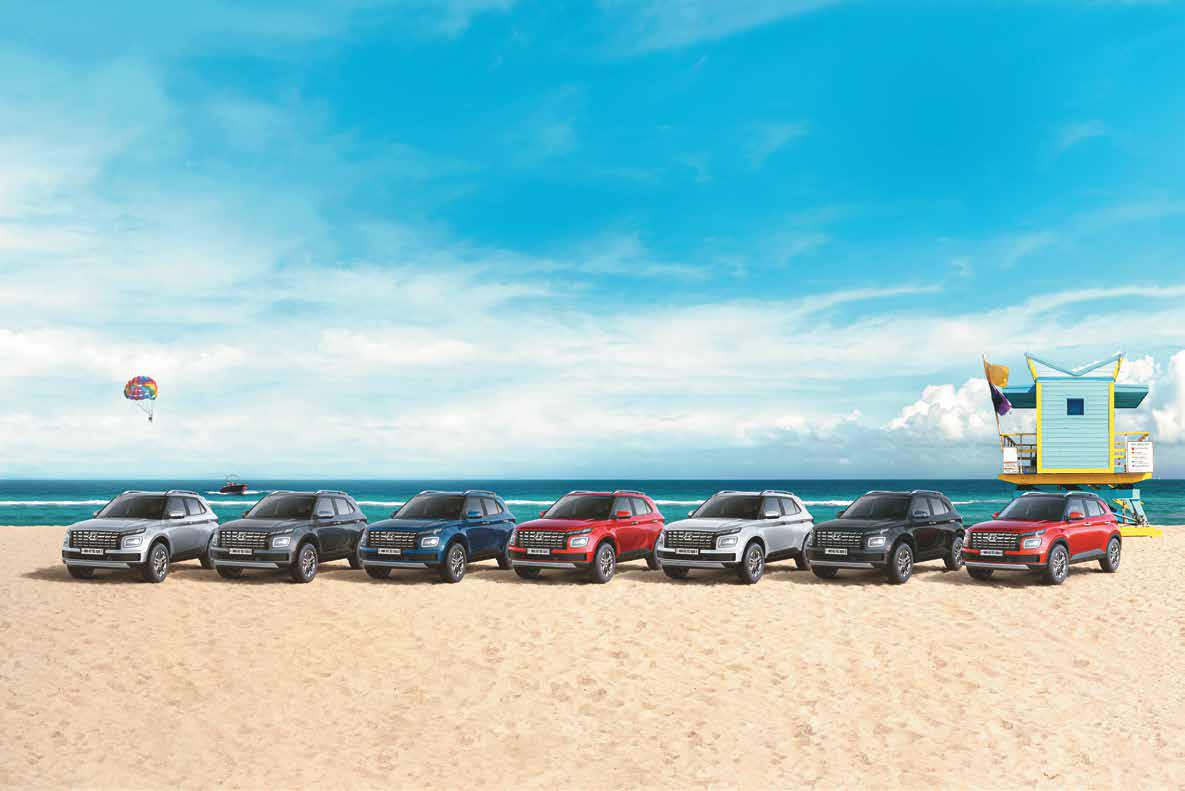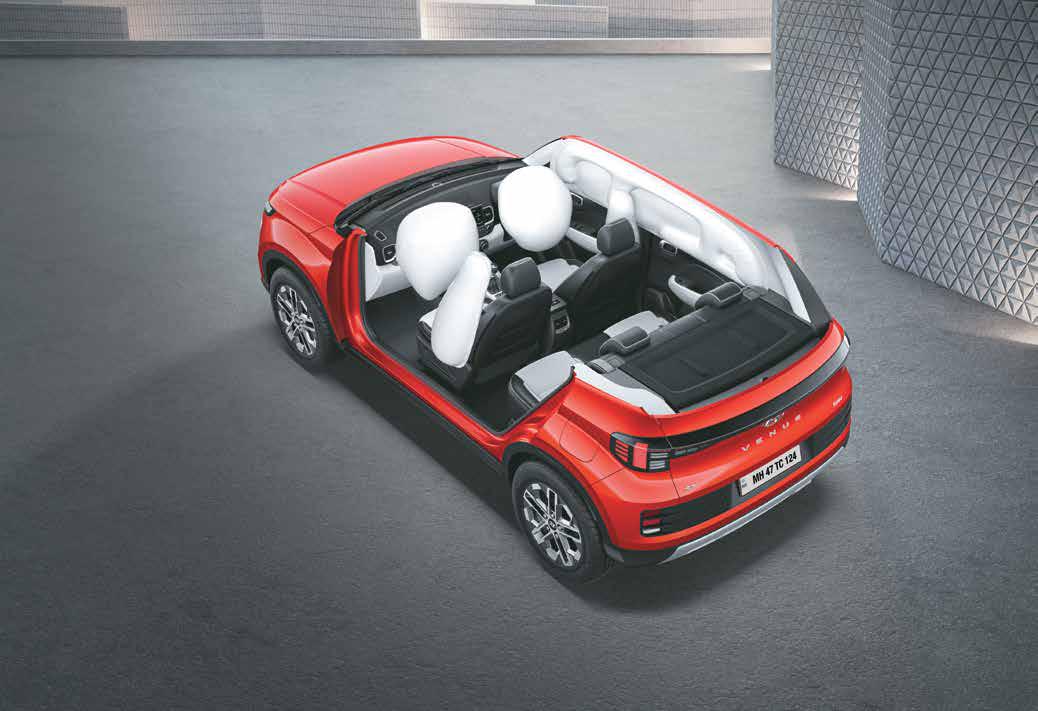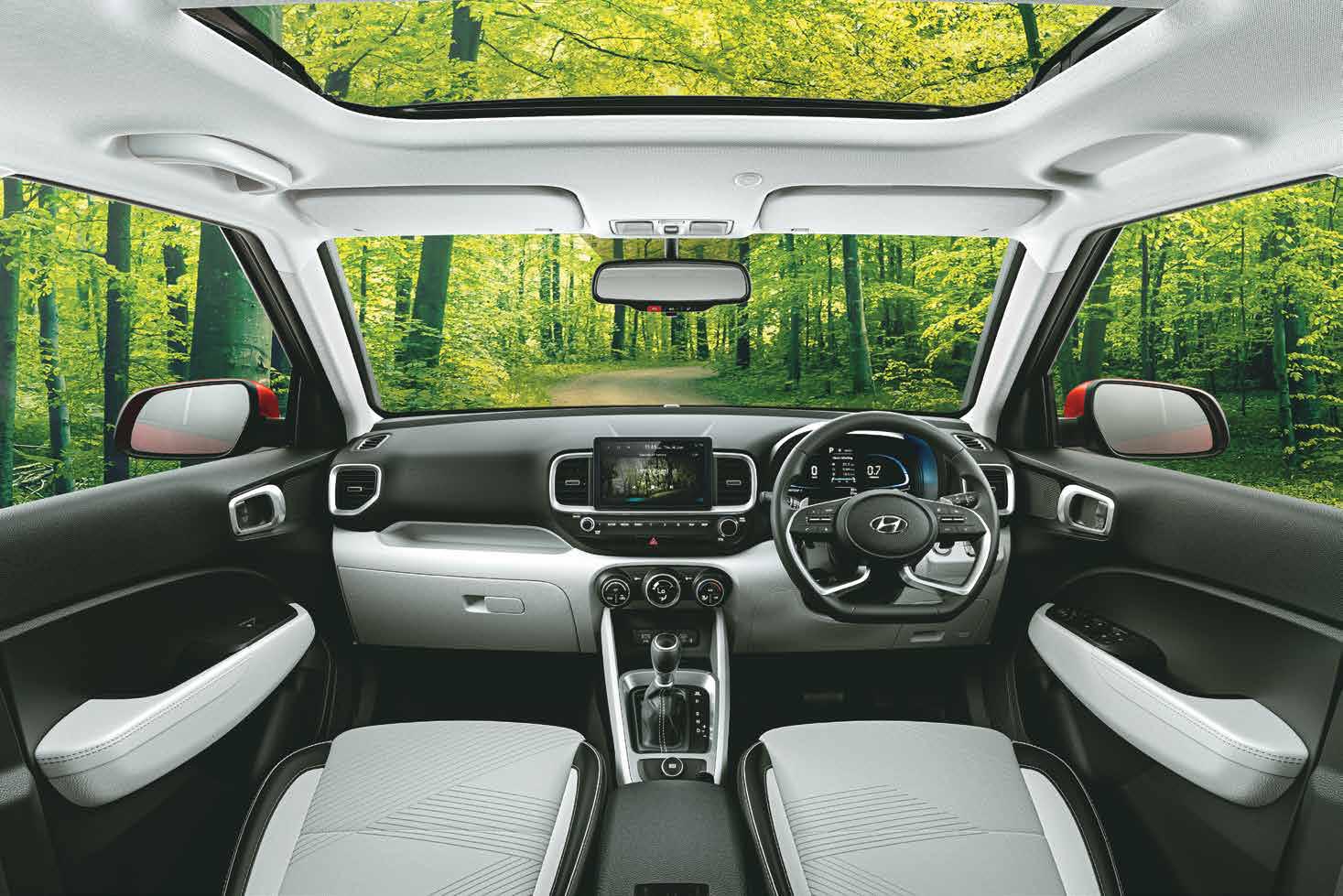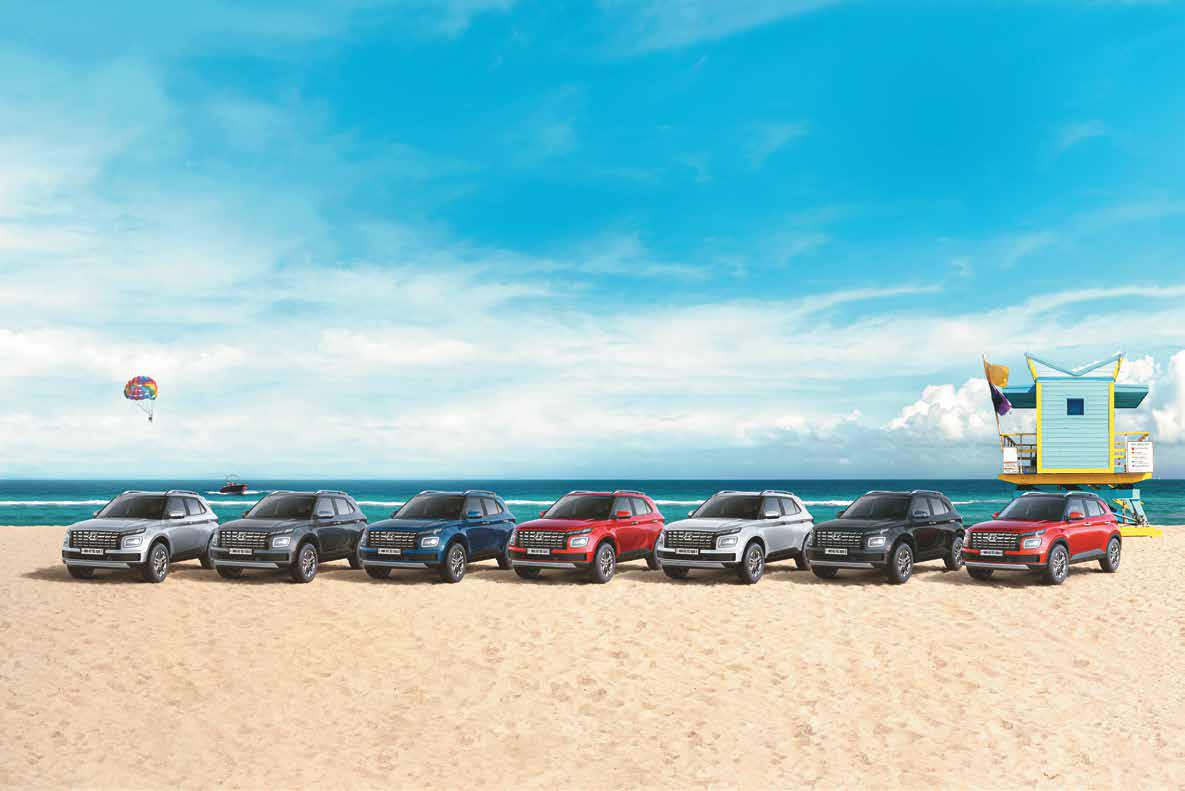 The new Hyundai Venue has been designed with cutting-edge technology, incredible connectivity, and new-age style. The car is with SUV-like power and features.
Style that stands out from the crowd
It comes with dark chrome grille to the connecting LED tail lamps. The faux skid plate and new bumper design adds boldness to the Hyundai Venue.
Puddle lamps
R16 (D=405.6 mm) Diamond cut alloys
Cornering lamps
LED projector headlamps
Choose Your Vehicle Colors
Venue car colours areTyphoon Silver, Titan Grey, Denim Blue, Polar White, Fiery Red, Phantom Black, Fiery Red with Phantom Black.
Embrace The Luxurious Life
The cabin of the Hyundai Venue has received Stylish, refined and exciting touch. It is focused on fun and comfort rolled into one incredible package that makes sure it looks just as trendy inside, as it does outside.
Power driver seat- 4 ways
2-Step rear reclining seat
Digital cluster with color TFT MID
Auto healthy air purifier
Ambient lighting
Front seatback scoop
Enthusiastic Driving Experience
Get anywhere by style. The New Hyundai VENUE makes driving enjoyable. It is the ideal balance of performance and efficiency for a thrilling driving experience. Simply put, it's a lit drive.
U2 1.5 CRDi diesel
Kappa 1.0 Turbo GDi petrol
Kappa 1.0 Turbo GDi petrol
Drive mode select
Optimized aerodynamics
Rear wheel deflector
The new Hyundai VENUE is built to keep you safe. Its strong body structure with AHSS enhanced structural strength.  The new Hyundai VENUE provides superior safety to customers.
Six Airbags
Parking Assist Rear Camera with Dynamic Guidelines
Cornering Lamps
Automatic Headlamps & Headlamp Escort Function
Vehicle Stability Management (VSM)
Hill Assist Control (HAC)
Electronic Stability Control (ESC)
Tyre pressure monitoring system (Highline)
Keep in touch with both your car and the world around you
Between the Alexa, Google Voice Assistant and the 60+ feature-loaded Bluelink, you've got everything you need to make your drives lit and exciting.
Home to car (H2C) with Alexa and Google Voice assistant*
60+ Bluelink connected features
10 Regional languages infotainment
Ambient sounds of nature
Rear center armrest with cup holder
60:40 Split rear seat
2-Step rear reclining seat
Wireless phone charger
Smart Key & Push Button Start/ Stop
Glovebox Cooling
Rear AC Vents
1.2 Kappa MPi Petrol 5-Speed Manual
| | |
| --- | --- |
| | |
| | 1.2 Kappa MPi Petrol 5-Speed Manual |
| | |
| | |
| | |
| --- | --- |
| | McPherson strut with coil spring |
| | Coupled torsion beam axle with coil spring |
| Suspension Shock Absorber | |
| | |
| --- | --- |
| | 195/ 65 R15 (D=380.2 mm) Steel (E, S, S(O), SX) |
| | 195/ 65 R15 (D=380.2 mm) Steel (E, S, S(O), SX) |
| | 195/ 65 R15 (D=380.2 mm) Steel (all trims) |
| | |
1.5 l U2 CRDi 6-Speed Manual
| | |
| --- | --- |
| | |
| | 1.5 l U2 CRDi 6-Speed Manual |
| | |
| | |
| | |
| --- | --- |
| | 1.5 l U2 CRDi 6-Speed Manual |
| | |
| | |
| | |
| | |
| | |
| | |
| | |
| --- | --- |
| | McPherson strut with coil spring |
| | Coupled torsion beam axle with coil spring |
| Suspension Shock Absorber | |
| | |
| --- | --- |
| | 195/ 65 R15 (D=380.2 mm) Steel (E, S, S(O), SX) |
| | 195/ 65 R15 (D=380.2 mm) Steel (E, S, S(O), SX) |
| | 195/ 65 R15 (D=380.2 mm) Steel (all trims) |
| | |
1.0 Kappa Turbo GDi Petrol
| | |
| --- | --- |
| | |
| | 1.0 Kappa Turbo GDi Petrol |
| | |
| | |
| | |
| --- | --- |
| | iMT ( Intelligent manual transmission,) 7-Speed DCT |
| | |
| --- | --- |
| | 1.0 Kappa Turbo GDi Petrol |
| | |
| | |
| | |
| | |
| | |
| | |
| | |
| --- | --- |
| | McPherson strut with coil spring |
| | Coupled torsion beam axle with coil spring |
| Suspension Shock Absorber | |
| | |
| --- | --- |
| | 195/ 65 R15 (D=380.2 mm) Steel (E, S, S(O), SX) |
| | 195/ 65 R15 (D=380.2 mm) Steel (E, S, S(O), SX) |
| | 195/ 65 R15 (D=380.2 mm) Steel (all trims) |
| | |
| | | | | | |
| --- | --- | --- | --- | --- | --- |
| Engine and Trim Plan | E | S | S+/S(O) | SX | SX(O) |
| Kappa 1.2 MPi Petrol | MT | MT | MT(S(O)) | MT | – |
| Kappa 1.0 Turbo GDi Petrol | – | – | iMT/DCT(S(O)) | – | iMT/DCT |
| U2 1.5 CRDi Diesel | – | – | MT (S+) | MT | MT |
Feature

E

S

S+/S(O)

SX

SX(O)

Airbag

Driver & Passenger

S

S

S

S

S

Side & Curtain

–

–

–

–

S

ABS with EBD

S

S

S

S

S

Electronic Stability Control (ESC)

–

S

S

S

S

Brake Assist System (BAS)

–

S

S

S

S

Vehicle Stability Management (VSM)

–

S

S

S

S

Hill Assist Control (HAC)

–

S

S

S

S

Parking Assist (Rear)

Parking Sensors

S

S

S

S

S

Camera with Dynamic Guidelines

–

–

S

S

S

Automatic Headlamps

–

S

S

S

S

Inside Rear View Mirror

Day & Night Mirror

S

S

S

S

S

Telematics switches (SOS, RSA &Bluelink)

–

–

–

1.2 PL Only

S

Headlamp Escort Function

–

S

S

S

S

Tyre Pressure Monitoring System (Highline)

–

S

S

S

S

Central Locking

S

S

S

S

S

Impact Sensing Auto Door Unlock

S

S

S

S

S

Speed Sensing Auto Door Lock

S

S

S

S

S

Rear Defogger with Timer

 

S

S#

S

S

Seatbelt Reminder (Driver, Passenger)

S

S

S

S

S

Keyless Entry

Foldable Key

–

S

S

–

–

Smart Key

–

–

–

S

S

High Speed Alert

S

S

S

S

S

Seatbelt pretensioners (Driver, Passenger)

S

S

S

S

S

Immobilizer

S

S

S

S

S

ISOFIX

S

S

S

S

S

Burglar Alarm

–

–

–

1.2 PL Only

S
Feature

E

S

S+/S(O)

SX

SX(O)

Headlamps

Halogen lamps

S

S

–

–

–

LED Projector Headlamps

–

–

S

S

S

Cornering Lamps

–

–

S

S

S

LED DRL & Positioning Lamps

–

–

S

S

S

Connecting LED Tail Lamps

–

–

S

S

S

Dark Chrome Front Grille

S

S

S

S

S

Body Colored

Bumpers

S

S

S

S

S

Outside Door Mirrors

–

S

S

S

S

Outside Door Handles

S

S

S

S

–

Chrome Finish Outside Door Handles

–

–

–

–

S

Front & Rear Skid Plate

S

S

S

S

S

Roof Rails

–

S

S

S

S

Turn Indicators on Outside Mirrors

–

–

S

S

S

R15 (D=380.2 mm) Steel Wheels with Wheel Cover

S

S

1.2 PL Only

1.2 PL Only

–

R16 (D=405.6 mm) DT Styled Wheels

–

–

1.0T & 1.5 DSL Only

–

–

R16 (D=405.6 mm) Diamond Cut Alloys

–

–

–

1.5 DSL Only

S

Shark Fin Antenna

–

S

S

S

S
Feature

E

S

S+/S(O)

SX

SX(O)

D-Cut Steering

–

–

DCT Only

S

S

Two tone Black &Greige Interiors

S

S

S

S

S

Seat Upholstery

Fabric

S

S

S

S

–

Leather^ + Fabric

–

–

–

–

S

Leather^ Pack

Steering Wheel

–

–

DCT Only

S

S

Gear Knob

–

–

DCT Only

S

S

Ambient Lighting

–

–

–

–

S

Metal Finish Inside Door Handles

S

S

S

S

S

Front & Rear Door Map Pockets

S

S

S

S

S

Seatback Pocket (Passenger Side)

S

S

S

S

S
Feature

E

S

S+/S(O)

SX

SX(O)

Height Adjustable Driver Seat

–

–

S

S

S

Rear Seat Headrest

Integrated

S

S

S

–

–

Adjustable

–

–

–

S

S

Front Seat Adjustable Headrest

S

S

S

S

S

2-step Rear Reclining Seat

–

–

–

S

S

60:40 Split Rear Seat

–

–

–

S

S
Infotainment & Connectivity
Feature

E

S

S+/S(O)

SX

SX(O)

Infotainment System

20.32 cm (8″) Touchscreen Infotainment System

–

S

S

1.5 DSL Only

–

20.32 cm (8″) HD Infotainment System with Bluelink

–

–

–

1.2 PL Only

S

Multiple Regional Language

–

S

S

S

S

Ambient Sounds of Nature

–

–

–

1.2 PL Only

S

Smartphone Connectivity**

Wireless Android Auto & Apple Carplay

–

S

S

1.5 DSL Only

–

Android Auto & Apple Carplay

–

–

–

1.2 PL Only

S

Voice Recognition

–

S

S

S

S

Digital Cluster with Color TFT MID

–

S

S

S

S

Home to car (H2C) with Alexa & Google Voice Assistant^^

–

–

–

1.2 PL Only

S

Firmware Over-the-Air (FOTA) Update

–

–

–

1.2 PL Only

S

Front & Rear Speakers

–

S

S

S

S

Steering Wheel with Audio & Bluetooth Controls

–

S

S

S

S

Front Tweeter

–

S

S

S

S
Feature

E

S

S+/S(O)

SX

SX(O)

 

Remote engine start with smart key

–

–

–

1.5 DSL Only

S

 

DSL Only S Power driver seat – 4 way

–

–

–

–

S

 

Drive Mode Select (Normal, Eco, Sport)

–

–

DCT Only

–

DCT Only

 

Smart Electric Sunroof

–

–

–

S

S

 

Paddle Shifters

–

–

DCT Only

–

DCT Only

 

Push Button Start/Stop

–

–

–

S

S

 

Motor Driven Power Steering

S

S

S

S

S

 

Power Windows

Front

S

S

S

S

S

 

Rear

–

S

S

S

S

 

Air conditioning

Manual AC

S

S

S

–

–

FATC with digital display

–

–

–

S

S

 

Puddle Lamps

–

–

–

S

S

 

Outside Mirrors

Electrically Adjustable

–

S

S

S

S

 

Auto Fold with Welcome Function

–

–

–

S

S

 

Rear AC vents

–

S

S

S

S

 

Auto Healthy Air Purifier

–

–

–

–

S

 

Wireless Phone Charger

–

–

–

S

S

 

Glovebox Cooling

–

–

–

S

S

 

Tilt Steering

S

S

S

S

S

 

Cruise control

–

–

1.0T Only

1.5 DSL Only

S

 

Front Center Armrest with Storage

–

S

S

S

S

 

Rear Center Armrest with Cup Holder

–

–

–

S

S

 

Front USB Charger (C Type)

S

S

S

S

S

 

Front Power Outlet

S

S

S

S

S

 

Rear USB Charger (C Type) [2 nos.]

–

S

S

S

S

 

Front Map Lamps

–

–

–

S

S

 

Intermittent Variable Front Wiper

S

S

S

S

S

 

Rear Wiper & Washer

–

–

1.0T Only

1.5 DSL Only

S

 

Lane Change Indicator

S

S

S

S

S

 

Rear Parcel Tray

–

–

S#

S

S

 

Luggage Lamp

–

–

–

S

S

 

Battery Saver & AMS

S

S

S

S

S

 
S- Standard
^Leatherette
^^Alexa Amazon Echo/Google Home device is not a standard car accessory and customer needs to purchase from third party.
** Works with Select Android & Apple Smartphones only
# Not included in 1.5 DSL MT S+
DT- Dual tone